The Sub-seasonal to Seasonal Prediction Project (S2S) was jointly launched by the World Weather Research Programme (WWRP) and the World Climate Research Programme in November 2013, intending to improve the forecast skill for high-impact weather events on the sub-seasonal to seasonal timescale (from 2 weeks to a season) and bridge the gap between medium-range and seasonal forecasting. The project is currently in its second phase.
ANSO-MISSPAD team, one of the ANSO Collaborative Research, has been committed to seamless forecasting from weather to climate. The team joined the S2S project in October 2020 and provided forecast products such as temperature, pressure, precipitation, sea ice and typhoons for global users. On January 19, the team participated in the session 1 of the S2S Forecast Technical Committee Network Meeting (session 1 is for EU, Asia and Australia, session 2 for EU and North America), hosted by European Centre for Medium-Range Weather Forecasts (ECMWF), to exchange information on numerical model development, data sharing, work proposals and plans.
Nevertheless, under the continuous efforts of ANSO-MISSPAD, the Institute of Atmospheric Physics, Chinese Academy of Sciences was officially recognized by the World Meteorological Organization (WMO) as a meteorological Originating Centre (WMO code 291, abbreviation is ANSO), representing ANSO to provide global forecast data for WWRP/WCRP S2S Phase II.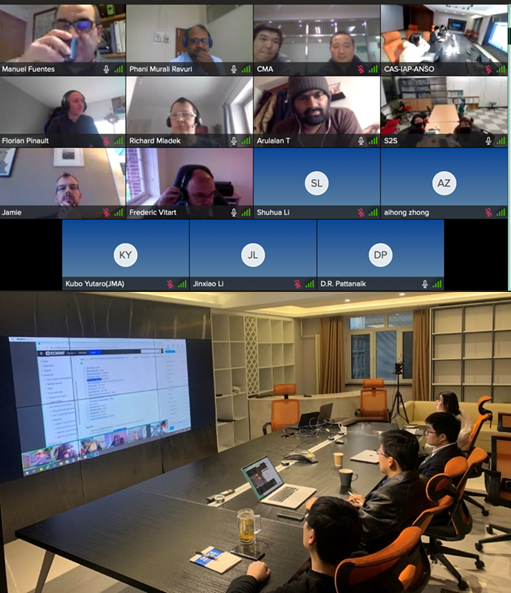 (a)ANSO-MISSPAD team participated in the session 1 of the S2S Forecast Technical Committee Network Meeting on January 19 (session 1 is for EU, Asia and Australia, session 2 for EU and North America)
Resource: ANSO-MISSPAD