Hosted by the Central Department of Geography (CDG), Tribhuvan University (TU), the ANSO Collaborative Research Project entitled Assessing Households' Adaptive Capacity to Climate Change in the Diverse Socio-Cultural and Geographical Landscape of South Asia (ANSO-CR-PP-2021-06) was kicked off in the beginning of 2022. Recently, the research team organized a project-briefing meeting to TU authorities and professors on March 28, 2022 in Hotel Himalaya, Lalitpur, Nepal.
TU Vice Chancellor Prof. Dharma Kanta Baskota addressing the meeting
This ANSO project aims to assess livelihood vulnerability situation and household capacity to adapt and respond to climate change effects which contribute towards better policy framing for climate change adaptation and sustainable development. The study will be completed in three years.
Prof. Prem Sagar Chapagain, Principal Investigator of the project, presented the research issues, objectives, and project activities. He highlighted the need of synthesized knowledge based on case studies from the different places in the region to combat climate change impact. Furthermore, he presented about the collaboration of six universities/institutes from China, Nepal, India, Bangladesh and Australia, and highlighted about the timeline of the activities, responsibilities of the collaborators and the project achievements so far completed. He also talked about the ANSO, its establishment, and the major goals. At the end of the presentation, he thanked to ANSO, TU authorities, and CDG for their cooperation.
The Vice Chancellor, Rector, and Registrar of TU shared their views. Prof. Dharma Kanta Baskota, Vice Chancellor of TU, claimed that the Central Department of Geography is the one of the leading departments of TU in terms of teaching and international research. This sort of collaborative research effort can be the milestone in achieving the goal of TU. He also thanked ANSO for the research support. Prof. Shiva Lal Bhusal, Rector of TU and Prof. Peshal Dahal, Registrar of TU expressed their satisfactions and wished for the successful completion of this project.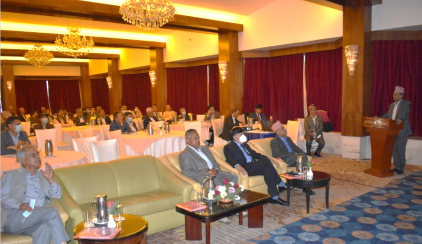 UGC Chairman Prof. Bhim P. Subedi addressing the meeting
Prof. Bhim Prasad Subedi, Chairman of University Grants Commission (UGC) of Nepal also addressed the meeting. He briefly highlighted the history of CDGTU and said that the project is the milestone for CDG. He also thanked to TU authorities for supporting this project and expressed his commitment in supporting the project from UGC.
The half day meeting was attended by about 70 participants, including Prof. Bhim Prasad Subedi, Chairman of the University Grants Commission of Nepal; Prof. Dharma Kanta Baskota, Vice Chancellor of TU; Prof. Shiva Lal Bhusal, Rector of TU; Prof. Peshal Dahal, Registrar of TU; Prof Pitambar Sharma, former Vice-Chairman of the National Planning Commission of Nepal, the Deans, Directors of the Research Centers; Director of Research Division; Director of Center of International Relations; Director of Confucius Center – TU; KCRE-CAS TU; Head of the Central Departments; professors and researchers at TU.
Source: Prof. Prem Sagar Chapagain, Central Department of Geography, Tribhuvan University