The 17 Sustainable Development Goals (SDGs) and 169 targets set out in the 2030 Agenda set the direction for countries around the world to work on sustainable development from 2015 to 2030. After more than four years, various countries have made a series of breakthroughs. However, recent reports indicate that, based on current progress, there is no guarantee that all goals will be achieved by 2030, and that more in-depth and rapid measures will be needed to advance the implementation of SDGs.
Faced with the above challenges, researches have explored countermeasures from multiple perspectives. However, due to the scale effect, a single country's plan may have a negative external impact on other countries. To avoid this risk, a new article by Bojie Fu and his research group from Beijing Normal University, China, now proposes a systems approach, Classification-Coordination-Collaboration (3C), to promote the overall realization of SDGs.
Among the 3C constituents, classification is the foundation, which aims to identify the main features of the different SDGs, the differences among countries, and the influence of scale; coordination is the core link, which aims to ensure policy coherence among countries and departments by formulating reasonable policies; and collaboration is the necessary means to achieve the SDGs as a whole. This approach calls for significantly greater collaboration in economic, Science & Technology (S&T), and cultural fields.
In this approach, each constituent interacts with one another. For example, the classification requires multi-stakeholders' coordination and collaboration, and classification can also enhance coordination and promote more efficient collaboration.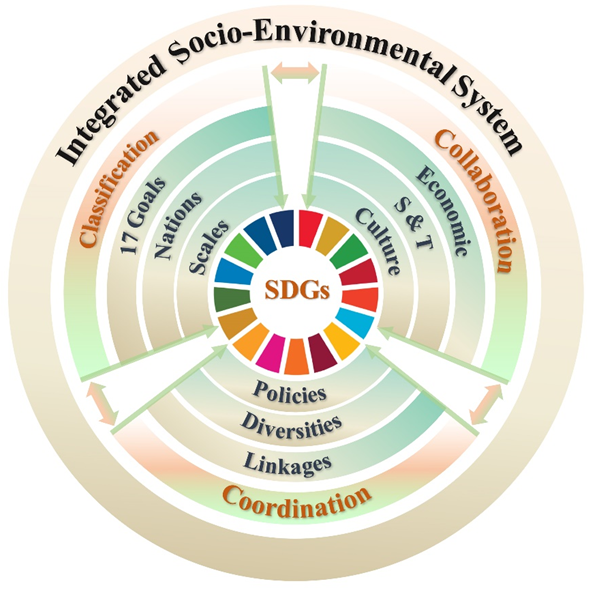 A systems approach for advancing the SDGs: Classification–Coordination–Collaboration.
The 3C approach provides a feasible way in which to promote the overall implementation of the SDGs in various countries worldwide, consisting of the necessary processes and essential means for advancing the SDGs. This approach allows to make SDGs realize key breakthroughs over the short-term while achieving sweeping progress over the long run.
This study was supported by the National Key Research and Development Program of China, the National Natural Science Foundation of China, and the Science-based Advisory Program of the Alliance of International Science Organizations(ANSO).
Original source: Fu B, Zhang J, Wang S, Zhao W, 2020. Classification–coordination–collaboration: A systems approach for advancing sustainable development goals. National Science Review, https://doi.org/10.1093/nsr/nwaa048
Bojie Fu is a distinguished professor in Chinese Academy of Sciences, and dean of Faculty of Geographical Science, Beijing Normal University. His research focuses on landscape pattern and ecological processes, ecosystem services & human well-being, sustainability.
E-mail: bfu@rcees.ac.cn