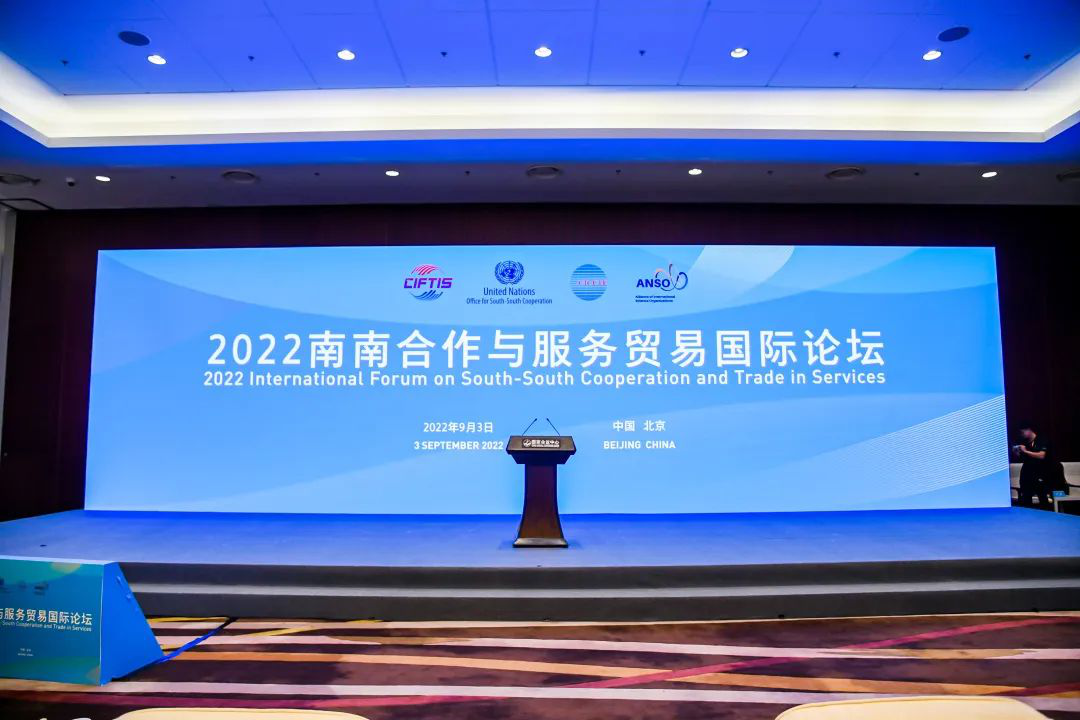 The 2022 International Forum on South-South Cooperation and Trade in Services (the Forum) took place at China National Convention Center in Beijing on 3 September. Under the theme of "Shaping a Global Greener Future Through South-South Technical Cooperation", the Forum aimed to deepen the understanding of the role and impact of technical cooperation on accelerating the South-South and Triangular Cooperation (SSTrC), to optimize the patterns and pathways of SSTrC, and to scale up the efforts to shape a global greener future with the principle of inclusivity and leaving no one behind.
The Forum featured an agenda consisting of Opening Remarks, Keynote Speeches, Panel Discussion, and Promotion and Launch Event. This hybrid event was attended by more than 600 participants from 31 countries, including representatives from government agencies, foreign embassies in China, international organizations, research institutes, academia, civil society organizations, business community, and private sectors, etc.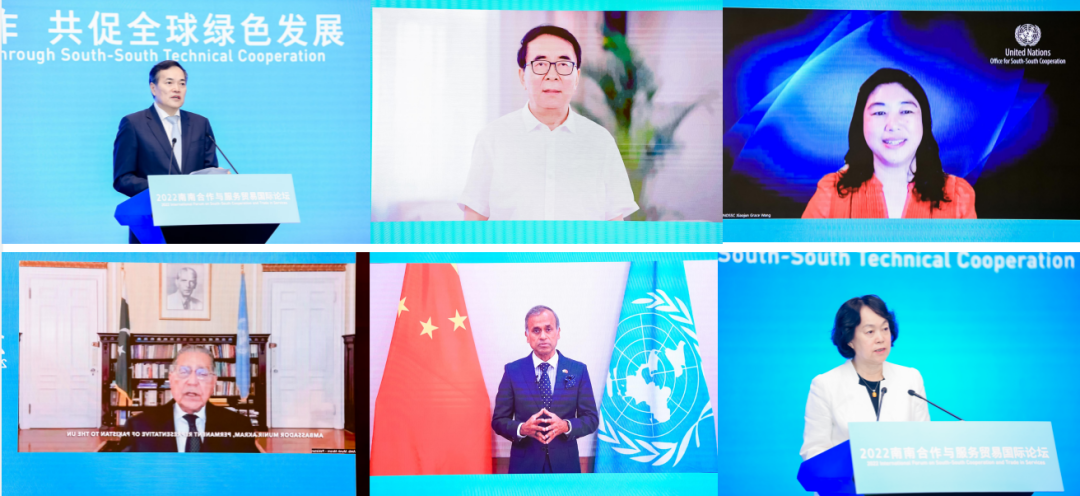 Present at the Opening Remarks session were Mr. QIAN Keming, Vice Minister of the Ministry of Commerce of China; Prof. BAI Chunli, President of the Alliance of International Science Organizations (ANSO); Ms. Xiaojun Grace Wang, Trust Fund Director of the United Nations Office for South-South Cooperation (UNOSSC); Mr. Munir Akram, Ambassador and Permanent Representative of Pakistan to the United Nations and Chair of the Group 77; Mr. Siddharth Chatterjee, the UN Resident Coordinator in China; and Ms. CHEN Jun, Vice Chair of Beijing Municipal Committee of the Chinese People's Political Consultative Conference. All of them delivered their warm welcome to all the participants and sincere thanks to the organizers and sponsors in the opening remarks. Prof. BAI Chunli particularly emphasized that international science collaboration is the only way to cope with global challenges, such as COVID-19 pandemic, climate change, natural disasters and environment degradation. ANSO has been playing an active role in working with developing countries, and will continue to make effort in addressing the common challenges and promoting the UN SDGs to support the South-South cooperation on science, technology, innovation and capacity building. Mr. ZHANG Yi, Deputy Director-General of China International Center for Economic and Technical Exchanges (CICETE) chaired the Openning session.
After the opening, the Keynote Speeches were started by Ms. Beate Trankmann, Resident Representative of the United Nations Development Program (UNDP) China. She highly appreciated China's assistance and contribution to tackling the shared development challenges. The combination of Chinese expertise and UNDP's experience provides off-grid energy solutions to marginalized and excluded populations in partner countries. And UNDP stands ready to offer expertise to all development cooperation actors in China, to support South-South and Triangular partnerships.

Prof. ZHU Yongguan, Member of Chinese Academy of Sciences (CAS), Chair of International Science Council (ISC) Urban Health Program, proposed the Nature-based solutions (NbS) that target major challenges of climate change, disaster risk reduction, food and water security, biodiversity loss and human health in rapidly growing cities of developing countries. He also shared the experience of NbS implementation through the protection, sustainable management and restoration of natural and modified ecosystems by benefiting biodiversity and human well-being.
Mr. Bishnu Pukar Shrestha, Ambassador Extraordinary and Plenipotentiary of the Embassy of Nepal in Beijing, shared his views on South-South cooperation and service trade. He attached great importance of technology and innovation in digital economy. According to his speech, on its path of digital economy, Nepal is willing to extend its cooperation with the e-commerce platforms of China to boost the Nepal-China trade. He also appealed for collaboration on addressing climate changes to conduct sustainable development.
Prof. LI Xiaoyun from China Agricultural University (CAU), presented bilateral cooperative projects on agriculture technologies from "Simple Technology, Big Harvest" to "Small Bean and Big Nutrition", which fulfilled the basic needs of people in Tanzania and other parts of Africa.
Dr. Shamika N. Sirimanne, Director of Division on Technology and Logistics, United Nations Conference on Trade and Development (UNCTAD) stressed the crucial role of South-South cooperation in knowledge sharing and technology transfer. She also highlighted the key initiative of the Commission on Science and Technology for Development (CSTD) called the "CropWatch Innovative Cooperation Program" and shared her perspective on the South-South cooperation.
The Keynote Speeches was chaired by Prof. CAO Jinghua, Executive Director of the ANSO Secretariat.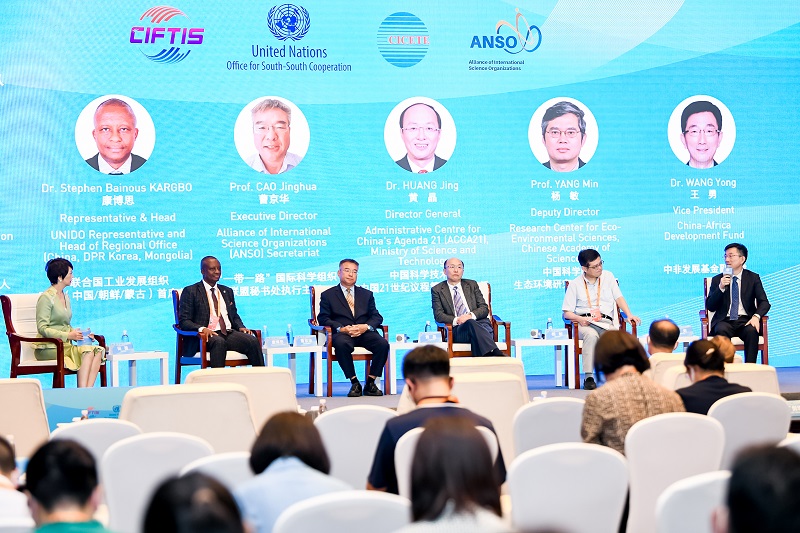 The main topics of Panel Discussion concentrated on how to bridge the technology and innovation divide between north and south, and further enhance sustainable green development through South-South cooperation. The panelists, Dr. Stephen Bainous Kargbo, the United Nations Industrial Development Organization (UNIDO) Representative and Head of Regional Office (China, DPR Korea, Mongolia); Prof. CAO Jinghua, Executive Director of ANSO Secretariat; Dr. HUANG Jing, Director General of the Administrative Center for China's Agenda 21 (ACCA21), the Ministry of Science and Technology of the People's Republic of China; Prof. YANG Min, Deputy Director of the Research Center for Eco-Environmental Sciences (RCEES) of CAS; and Dr. WANG Yong, Vice President of China-Africa Development Fund, shared their opinions in the discussion. As a conclusion, giving full play to the infrastructure development, actively promoting technology transfer, enhancing economic development in the form of investment and funds, and effectively improving the livelihood and wellbeing of south countries, are the top priorities of South-South scientific and technological cooperation and green development.
In the last session of Promotion and Launch Event, ANSO SDG Report: Poverty Alleviation Supported by Science and Technology, was released by the Institute of Geographic Sciences and Natural Resources Research of CAS; Drinking Water Safety and Security Technologies for Developing Countries, released by RCEES of CAS; Green Biomanufacturing & Sustainable Development–TIBCAS's Vision and Action, released by the Tianjin Institute of Industrial Biotechnology (TIB) of CAS; and other three achievements were showcased at event as well.
The Forum featuring South-South cooperation was co-organized by UNOSSC, CICETE, ANSO, which was held successfully during the China International Fair for Trade in Services (CIFTIS). It was supported by a number of organizations, including the United Nations Resident Coordinator's Office in China (UNRCO), UNDP, UNIDO, the United Nations World Food Programme (WFP), the College of International Development and Global Agriculture (CIDGA) and the China Institute for South-South Cooperation in Agriculture (CISSCA) of CAU, China South-South Cooperation Network, and Global South-South Development Center Project. Ms. TIAN Wei from China Global Television Network (CGTN) served as moderator of the forum.